The Era of Email Newsletters
Josh Marshall
As you may know we're in the midst of an burgeoning era of email newsletters. We have two new or upgraded ones ourselves: The Franchise (on voting rights and democracy) and The Weekender. (You can sign up for both here.) There's also Substack, a newsletter platform which now hosts a substantial number of established journalists (and newcomers) who are striking out on their own as one-man/-woman shops with revenue from recurring subscriptions. There's even been some controversy in the case of Substack because they have basically fronted a year of guaranteed revenue to a number of journalists with established followings. Substack thinks it will make money on those advances and does so because it wants as many proofs of concept on the platform as possible. Nothing surprising or controversial there, though some think otherwise.
A key part of the newsletter revival is the subscription model, one which I've discussed at great length as a key to TPM's survival and current vitality. That is a key part of their attractiveness. The greatest financial challenge to journalism today is the dominating role occupied by platform monopolies which take from publications their longstanding role as gatekeepers and profit centers for commercial speech. Direct relationships with readers via subscriptions cuts right through that existential challenge.
But it's not the business model of newsletters that brings me to write about them today. It's the more intangible or elusive qualities that makes them attractive to readers. The apparently viable business model makes them attractive to independent journalists and publications. But none of it would work if there wasn't demonstrable demand. And that demand very clearly exists.
Read More
| News
Before Texas filed a lawsuit that asked the Supreme Court to block President Biden's win in four battleground states, a draft of the petition was circulated to the Louisiana attorney general's office.
Read More
| News
Nearly three months after the head of Michigan's Republican Party unveiled an audacious plan that would allow GOP legislators to circumvent the state's Democratic governor's veto to pass restrictive voting laws, the contours of the scheme remain murky.
Read More
| Muckraker
Over the past two months of infrastructure talks, there's been a constant refrain from Republican negotiators: why not just use all the unspent COVID aid money to pay for the bill?
Read More
| Cafe
As a lifelong novel consumer who enjoys throwing myself into other worlds for hours on end, it probably won't come as a surprise that I don't read too many short stories.
Read More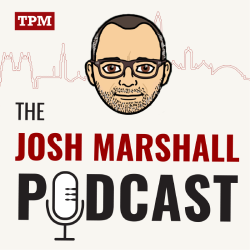 Ep. 177: Grading Garland's DOJ
Josh and Kate analyze the Department of Justice under Attorney General Merrick Garland and its pursuit of accountability (or lack thereof) for the Trump era...