Kyrsten Sinema's Final Senate Term
Josh Marshall
Like many people I spent a lot of time trying to figure out Kyrsten Sinema's motivations this year. I've discussed my conclusions in other posts. But what I've focused on more recently is that as near as I can see, unless she shifts her stance pretty dramatically the odds of Sinema being elected to a second Senate term in 2024 are pretty poor. And that's made me consider another question: does she just misread the politics of her situation that badly or is she not planning on running?
I know I've thrown out a few pretty dramatic claims. So let me walk you through my reasoning. Because I think it's pretty solid.
Read More
| Muckraker
On the dusty tarmac of an airport in Northern Afghanistan, six planes have been waiting for days.
Read More
| Prime
We wrote yesterday about the trend of 2020 election truthers — Big Liars, Trumplicans, pick your title — exposing sensitive information about the inner workings of election software, in the name of Truth and Transparency.
Read More
| Muckraker
The initial reports on the contents of the new book by Washington Post reporters Bob Woodward and Robert Costa came trickling in this afternoon.
Read More
| News
In May, a federal judge dismissed a Trumpy lawsuit over the 2020 election results in Antrim County, Michigan, where a clerk's error had briefly resulted in a miscount of the vote. "Expert" witnesses in the suit had seized on the discrepancy, which they claimed was the result of Dominion voting machine technology "purposefully designed" to tamper with vote totals.
Read More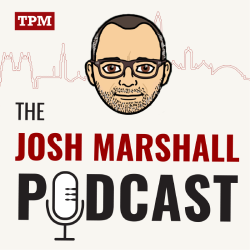 Ep. 190: California Said No
Josh and Kate discuss the failed effort to recall California Gov. Gavin Newsom and the President's meetings with a certain couple of senators who are threat...